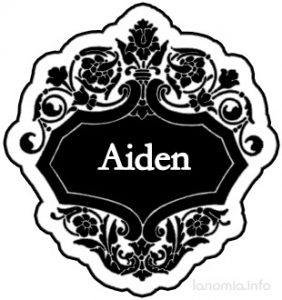 Aiden is a popular name for a boy in English speaking countries.
Gender of the name Aiden is a  

Boy

The origin of this  name  is Irish

The meaning of the name-  Aiden's name isunderstood as "the fiery one, little fire" 

Name number-

6

Colors – 

Royal blue,

 

Indigo,

 

Grey,

 

Dark Blue,

 

Purple

Gems – 

Pearls,

 

Blue Sapphire, 

Amethyst,

 

Black Pearls

Flowers- 

Rose

,

 Honeysuckle

Favorable day –

 Saturday

Nameday of Aiden is celebrated on  August 31 



Variations of the name 
Aiden, Aidan, Aedan, Aeden, Aidano, Aidyn, Ayden, Aydin, Aydan, Aidin, Aedin, Aedyn, Aideyn, Aidenn, Aedenn, Aidann, Aedann, Aydann, Aydenn, Aideynn
Personality traits
This boy will  be curious and witty. He will be  known as a romantic and sensual person.  A boy with this name  may be a motivated and hardworking person.  Aiden may like medicine and have a reputation of a natural healer. He may be a great judge of character as well. He will probably be known as honest and  open minded person.  The bearer of this name can be very  eccentric. He may also become famous as  a free spirit, innovator and a pioneer . He will probably be  well spoken, well educated, bright  and charming. People with this name are considered to  be good counselors.
Aiden in You Tube