Name  Mia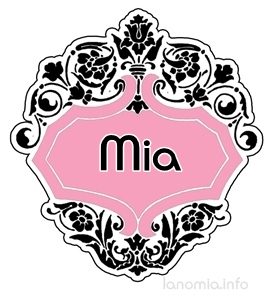 Gender of the name Mia is a  Girl
The origin of this  name – Mia's name originates from Latin and Hebrew languages.
The meaning of the name-  Mias' name is a version of a Hebrew name Mariah. This name is translated into English" Who is like God". In Latin language this name means "Mine". In Italian, Mia also translates to 'mine' or 'my own'.
History of the name – The name Mia is ranking  #5 on the list of top 100 cool baby girl names in the baby name book "Cool Names" by Pamela Redmond Satran and Linda Rosenkrantz.
Who is Mia's Patron Saint?
Her Patron Saint is Our Lady or Walsihgham. Her Memorial Day is on September 25th.  She is a Patron Saint of England.
Name number – 5
Colors- 

Turquoise,

 

Green- blue,

  

Yellow, 

White,

 

Pink

Gems – 

Aquamarine, 

Turquoise, 

Diamond ,Quartz, Crystal, White Sapphire, Tourmaline

Flowers – 

Ranunculus,

 

Gardenia

Favorable days- Wednesday, Friday
Nameday-  Mia's Nameday  is celebrated on  September 29th.
Variations of the name
Miah, Mea, Meah, Meya, Maia, Maya, Maja, Mija
Personality traits
Bright, independent and adventuresome. Loves freedom and fights for it. Charming and feminine. Respects traditional values and knows the  ways to achieve her goals.
Celebrities and famous people with this name
M. Hamm – American soccer player
M. Farrow – American actress
M. Michaels – American dancer and choreographer
M. Wasikowska – Australian actress
M.Talerico – American child actress
M.Rose Frampton – American actress
M.Stallard – American child actress
M. Kirshner – Canadian actress
M. Drotini – Australian Instagram Famous Twin Duo – Bella & Mia Drotini
Mia's name in media
M. Jones, character on the TV series Degrassi: The Next Generation
M. Thermopolis (short for Amelia), the main character in the Princess Diaries books and movies
M. Lewis, 16-year-old who sleeps with Hank Moody and steals his manuscript on the show Californication
"Mia" is the name of an Aerosmith song written for Steven Tyler's daughter, Mia Tyler.
M. Wallace, the wife of Marsellus Wallace in the movie Pulp Fiction
M. Toretto, in the Fast and Furious movie series
M. McCormick, character on the soap Days of Our Lives
M. St. Clair, from the 'American Girl' doll collection
M. Hall, main character in Gayle Forman's "If I Stay" and "Where She Went" novels, as well as the "If I Stay" movie adaptation.
Mia is also portrayed by Chloe Grace Moretz in the film.
Mia on You Tube