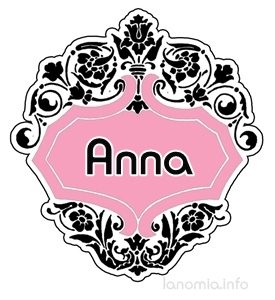 Gender of the name Anna is a   

Girl

The origin of this  name is 

Latin and Hebrew. This name is originating from the latinized Hebrew name Hannah.

The meaning of this  name–   the one, 

graced with God's favor

Name number –

3

Colors-

Yellow,

Gold,

Lemon,

Pink,

Blue,

Light purple

Gems- Topaz, Yellow sapphire
Flowers-

Yellow jasmine,

Larkspur,

Lily of the valley

Favorable day-

Thursday

Nameday- July 26th, September 1st,
St. Anne protects against the poverty and sterility. She is the Patron Sainto of the brommakers, cabinetmakers, carpenters, childless people, equestrians, expectant mothers, grandmothers, grandparents, homemakers, horsemen, horse women, housewives, lace makers, lost articles,  miners, old-clothes dealers, poor people, pregnancy, pregnant women, riders, seamstresses, stablemen, turners, women in labor
Canada, France, Micmaqs, Brittany,Caserta, Castelleto, Corinaldo, Marsaskala, Molo, Nueva Valencia, Quebec, Taos,
Variations of the name
Annah, Ana,Ann, Anna, Anne, Anya, Ane, Annze, Anouche, Annchen, Anais, Anais, Anaiss,Anays, Ance, Anechka, Aneisha, Anessa, Aneta, Anetta, Anette, Anka, Anki, Anku, Anke, Ania, Anica, Anice, Annaka, Anikee, Anika, Aniki, Aniko, Anita, Anitia, Anitra, Aniya,Anja, Anneett, Annora, Annorah,Anora, Antj, Asenka, Anyuta, Asenke, Anneke, Annas, Anni, Annick, Annie, Anneke, Annyna, Anynah, Anissa, Anny, Annys, Anoush, Ayn, Anyssa, Annikki, Ona, Onute, Onele
Personality traits
Bold and courageous. A pioneer and a risk taker. Charming and enthusiastic. Creative and independent. Romantic, passionate and sensual. Loves to say her word last. Has a good taste and a great sense of style. Original, unconventional and opinionated. Fast thinker and fast learner. Leads a busy lifestyle.
Anna on You Tube