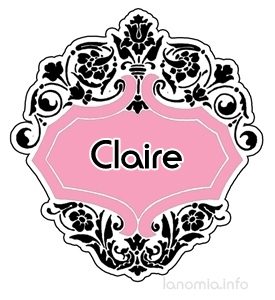 Gender of the name Claire is  –

 a Girl

The origin of this  name  is

 Latin

The meaning of the name– 

Famously bright

Name number –

3

Colors-

Yellow,

Gold,

Lemon,

Green,

Turqoise,

Light shades of brown

,

Smoky grey, 

White

Gems-

Topaz,

Emerald

Flowers-

Yellow Jasmine,

Larkspur,

Lily of the valley

Favorable day-

Wednesday, Friday

Nameday- Claire's nameday is celebrated on  02.10, 08.12; 08.17
Variations of the name:
Clara, Clarinda, Clarine, Clarita, Claritza, Clarrie, Clarry, Clarabelle, Claretha, Claribel, Clarice, Clarabelle, Claretha, Calribel, Clarice, Clarahell, Claral, Clare, Clair, Clarette, Clarinde, Claribelle, Claretta, Clareta, Clorinda, Chlorinda, Klara, Kler
Personality traits
Honest, dilligent,  cheerful and easy going. Strong and independent, but  easily adapts.  Knows how to defend herself. Sharp and critical of herself and others. Good communicator and fast thinker. Gentle, kind, inspirational and friendly. Lucky , romantic and adventurous. Works hard to achieve her goals and never forgives the liar.