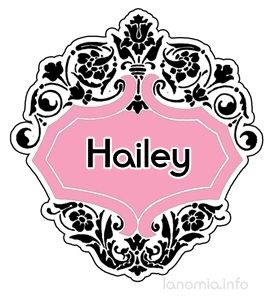 Gender of the name Hailey is a Girl,

Boy

 The name Hailey can be used for both genders

The origin of this name is English
The meaning of the name–  Hailey's name is understood as" 

The one from Hay clearing or the one from  Hay woods"

Name number-

6

Colors-

Royal blue,

Indigo,

White,

Golden

,

Yellow,

Orange,

Copper

Gems-

Pearl

,

Sapphire,

Garnet,

Red Sapphire

Flowers-

Rose,

Honeysuckle

Favorable day- Sunday, Monday
Nameday-  Haileys' Nameday is celebrated on 

August 10th

Variations of the name:
Haley, Hayle, Hailee, Haylee, Haylie, Haleigh, Hayley, Haeleigh, Haeli, Haili, Haily, Halea, Hayleigh, Hayli, Hailea, Haile, Hailie, Halie, Halee, Hali, Haelee
Personality traits
Successful, independent and strong. Pioneering spirit and business like minded. Fast thinker and good communicator. Knows the value of work and protects her freedom. Dislikes limitations, overindulging and impulsive. Secretive and mysterious. Needs much of sleep.