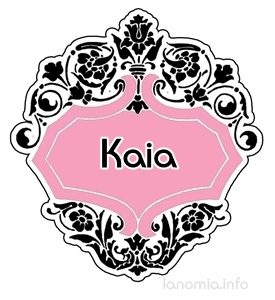 Gender of the name Kaia is a 

Girl

The origin of this  name – Kaia's name is of multiple origin. This name originates from Greek, Estonian, Norvegian, Hawaian, Native American, Scottish, Socttish and South African languages.
The meaning of the name–  This name can be translated  into English as Sea, echo, hen, earh, keeper of the keys, willow tree, beautiful
Name number –

4

Colors –

Greens,

Turqoise,

Light shades of brown,

Smoky grey,

White

Gems-

Jade,

Emerald
Flowers –

Nasturtium,

Bluebell

Favorable day- Wednesday, Friday
Nameday- October 14th ( in Estonia)
Variations of the name-
Kaya, Kaye, Kayeya, Kaja,
Personality traits
Gentle and sensitive. Perceptive and intuitive. Creative, charming and courageous. Independent  and knows how to stand her grounds. Loyal friend and good negotiator. Needs much of private space and solitude. Not easily influenced.