Name Madeline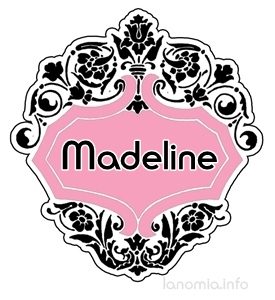 Gender  of the name Madeline is a Girl
The origin of this  name  is Hebrew.
The meaning  and the history of the name – Madeline's name is translated as "a woman of Magdala". Magdala is a village on the Sea of Galilee. This is also the name of the heroine in a series of children's books by Ludwig Bemelmans, first published 1939.
Who is Madeline's Patron Saint?
Her Patron Saint is St. Mary Magdalene. Her Memorial Day is on July 22nd. She is a Patron Saint of pharmacists, apothecaries and druggists, glove makers, hair dressers and hair stylists, converts, penitent sinners and penitent women, perfumers,  tanners, women.
Name number –9
Colors- 

White, Pearl, Clear,

 

Golden

,

Yellow

, 

Orange

,

Copper

Gems- 

Opal

, 

Garnet

, 

Red sapphire

Flowers – 

Magnolia

, 

Michaelmas daisy

, 

Red poppy, 

Rosemary

, 

Woodbine

Favorable days – Sunday, Monday
Nameday- Madeline's Nameday is celebrated on May 25th, June 22nd.
Variations of the name-
Nicknames – Maddie, Maddy, Madd, Madz, Madds, Made, Madė, Madi,
Maddi, Lynn, Lena, Mada, Deline, Madster,Linne, Madders
Variations of the name
Mada, Madelein, Madalaina, Madaleine, Madalena, Madlen, Madlena, Madalene, Madalyn, Madalynn, Maddie, Maddy, Madel, Madelaine, Madelayne, Madelina, Madelle, Madelon, Madelyn,Madelyne, Madelynn, Madelynne, Madlyn, Mady, Madzia, Magda, Mgdė, Magde, Magdala, Magdalen, Magdalena, Magdaline, Magdalini, Magdeleine, Magdeline, Maidel, Madale, Madelia, Magdiel, Malena, Malene, Malin, Modlen, Malgorzata, Malgosia
Personality traits
Kind and devoted. Trustworthy , reliable, hardworking and helpful.Original, and stylish. Unconventional and free spirited. Curious, intelligent and knowledgeable. Needs financial security and loves privacy. Not easily fooled, dislikes limitations. Easily adaptable,loves adventures and excitement. The truthseeker, has good verbal skills and can easily inspire.
Famous people with this name
Madeline Carroll – American actress
Madeline Rose Zima – American actress
Madeline roax- american author
Madeline Kahn – American actress (1942-1999)
Madeline's name in media
Madeline story books by Ludwig Bemelman.
"Madeline",- a  song by Hanson
Madeline-  the movie
Madeline, a character in La Femme Nikita