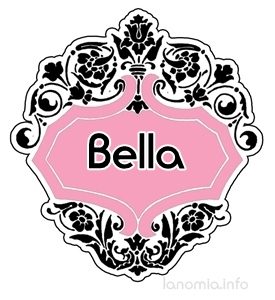 Gender of the name Bella is – a  Girl
The origin of the name –  This name is of Italian origin.
The meaning of the name– Bella's name is translated from Italian as  "The beautiful one"
Patron Saints – Bella's Patron Saints are St. Belina, Saint Berlindis of Meerbeke
Memorial days – February 19, February 3
Name number- 5
Colors – Turqoise, Green- blue, Green, Light shades of brown, Smoky grey, White
Gems- Aquamarine, Turqoise, Emerald
Flowers– Ranunculus, Gardenia
Favorable days- Wednesday, Friday
Nameday- Bella's Nameday is celebrated on  February 22 and November 2
Variations of the name-
Belle, Bela, Bell, Belita, Belissa, Belva, Belladonna, Belia, Bellanca, Bellance, Bellini, Bellaude, Berlinda, Berlindis
Personality traits
Romantic, sensual and emotional. Sparkling personality. Fast thinker and fast learner.  Good communication skills. Dynamic, busy and loving risk. Financial ups and downs. Easily adaptable, though needs much of private space.