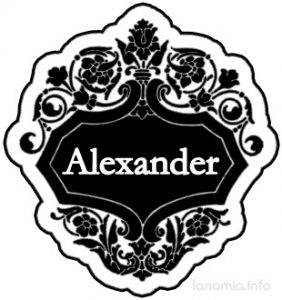 Gender – This is the name or a Boy
The origin of the name – Greek. Name Alexander is originating from the Greek name Αλεξανδρος (Alexandros)
The meaning of the name –  "the helper, the defender of the men"
The most famous bearer of this name was Alexander the Great, King of Macedonia. In the 4th century BC he built a huge empire out of Greece, Egypt, Persia, and several parts of India. Name Alexander is a Royal name. This name
has been used by kings of Scotland, Poland and Yugoslavia, emperors of Russia, and eight Popes.
Popularity of the name
Currently this name Alexander is a N#8 name in USA.
Patron Saints – St. Alexander
Nameday 
May 3, January 15, Jaunary 30, February 18, February 26, March 10, March 17, June 2, June 6, August 1, September9, October 5, November 5, December 12
Variations of the name
Alessandro, Alessio, Alexis,  Alexia, Alexus, Alexios, Alexius,  Lexus, Aleix , Aljoša Alexej, Aleš , Aleksi, Ale , Aleixo , Elek,  Aleksy, Aleixo, Aleksei, Aleksey, Alexei, Alexey, Alyosha, Lyosha, Alexej, Aleš , Aleksej, Aleks, Aleš, Aljoša , Alejo , Oleksiy
Famous bearers of the name are
Alexander the Great, Macedonian conqueror
Alexander I and II, Emperors of Russia
A. Graham Bell, Scottish inventor of the telephone
A. Calder, American sculptor
A. William Gaskarth, singer of pop/punk band All Time Low
A.r Ludwig, Canadian actor
A. Pope, English poet
A. Hamilton, Revolutionary War general, first Secretary of the Treasury and American Founding Father
A.Rae "Alec" Baldwin, American actor
A. Johan Hjalmar Skarsgard, Swedish actor
A. Rybak, Belarusian-Norwegian singer-songwriter
A. Jerome Gould, American voice actor
A.David "Alex" Turner, English lead singer of Arctic Monkeys
A. David "Alex" Linz, American actor
A.James "AJ" McLean, American singer of the Backstreet Boys
A. Armstrong, English comedian and presenter
Alexander Masters, English author
A.Dimmi, Yugoslavian singer
A. Kapranos, lead singer of Scottish band Franz Ferdinand
Miss J. Alexander, runway coach on "America's Next Top Model"
A. Instøy, member of Norwegian boy band The Main Level
A. Vail "Alex" Eckstein, American child actor
A. Massialas, American fencer
A. Johan Hjalmar Skarsgård, Swedish actor
A. Thomas "Alex" Castle, German music producer of "Twoloud"