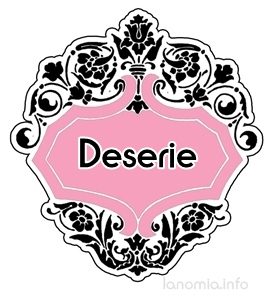 Gender of the name Deserie is a Girl
The origin of this name is French
The meaning of thisname-  Deserie's name  is a variation of a French Name Desiree.
Meaning of the name Desiree is "desire".
Patron Saints  – Jacques-Désiré Laval
Feast day – September 9  
Nameday –  Deserie's Nameday is celebrated on May 15 in England, May 23 in USA
Name number – 2
Colors – Orange, Peach, Salmon, Gold, Light green, Light blue, White
Gems – Gold, Moonstone, Cat's eye
Flowers – White jasmine, White lilac, Mimosa, Pansy
Favorable day- Sunday, Monday, Wednesday
Variations of the name-
Desirae, Desire, Désiré,  Desiree, Desaree, Desarae, Desyre, Dezirae, Deziree, Desirat, Desideria, Desirata, Des, Desi, Dezi, Dezie, Dezy, Dezey, Dezee, Dezea, Desirai, Dezirai
Personality traits 
A girl with a name Deserie is charming and devoted. But beware, she is not as simple as it looks. She is determined, and has an intense inner power. She works hard for her goals and she is unstoppable when she has made her mind. Her name encourages her to trust her intuition and she is very perceptive, indeed. You can rely on her intuition and her "gut" feelings. Deserie loves life. She is down to Earth when it comes to practical things and may be really stubborn at times. However her love for novelties and adventure pushes her to explore the new horizons and to use all her intuition and passion for life. She is one of the girls that will be loyal and faithful. Be sure, she expects the same in return. She will lend her shoulder when you will need to cry on it, but do not expect for her to open up so easy. You must earn her trust, as she needs to protect her boundaries and her privacy. Deserie is the one who will give you a good advice. She will also be the one, who can teach you some style. However, she may not be trusting herself too much and be depressive. A girl with this name has a potential to become a real star in whatever she decides to do, just let her work and do not bother her with nonsense. She is a pioneer in her heart  and has a potential to become a successful scholar, writer, artist, teacher or reformer. She is sociable, universal and open minded when it is needed. She is practical and reasonable when it comes to real life.