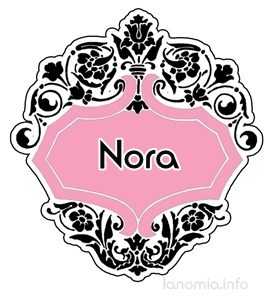 Gender of the name– this name is given to a girl.
The origin of the name – name Nora is considered to be a multiple origin name.  Iti is considered to be of latin and Anglo- Norman origins.
The meaning of the name Nora– Its roots may come from the latin name Honoria, which means "Honor". However French consider this name to be derived from the French name Alienor, bourne by French Princess of Occitan. The latter is derived from thethe Occitan phrase alia Aenor "the other AENOR" . This name is popular in England, Italy, Germany, Irieland, Scandinavian and Baltic countries.
Name number-

3

Lucky colors for her are –

 Yellow,

gold

,

lemon

, 

blue

,

grey

,

khaki

,

all shining colors

Gems – 

Topaz

, 

pearls, crystal quartz, moonstone, greenish or white agate or jade

Flowers – 

Yellow jasmine for happiness

,

larkspur for lightness

,

lily of the valley for the return of happiness

Favorable day – 

Saturday, Sunday, Monday

Nameday of Nora is celebrated on June 12, July 11, August 31,
Variations of the name-
Honora, Nóra, Nore, Nori, Norah, Lenora, Elea, Ella, Elle, Ellie, Elly, Leanora, Lenore, Nell, Nelle, Ellen, Noor, Noortje, Leonora,Lora, Eleonora, Eleonoora, Ella, Elli, Noora, Eléonore, Eleonóra,, Honoria, Noor, Aliénor, Eleonora, Leonor , Eilionoir, Eilidh, Leonor, Nóirín, Noreen, Norene, Nonie, Noreen, Lorita, Norina
Personality of Nora
Nora is a cheerful person and loves to talk. She  is optimistic, creative and has a great imagination. Nora is lucky and loves luxury and good life. Her style is remarkable, however she loves to spend and to indulge. She can be very emotional  and artistic. She may be very eloquent and be a gifted speaker. She has a talent of self- expression and can be  great a dancer, make- up artist or musician. She is romantic and can be very moody at times. However she has a great determination to achieve her goals and can be extremely industrious.
Nora on You Tube
https://youtu.be/SNzCTndc3Fk