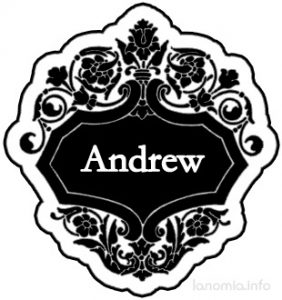 Gender  of the name Andrew is a Boy
The origin of this name is Greek.Name Andrew is a form of a Greek name Ανδρεας (Andreas), which was derived from a word ανδρειος (andreios) "manly, masculine".
The meaning of this  name- Andrew's name is translated as "a warrior"

 

History of the name – In the New Testament the apostle Andrew, the first disciple to join Jesus. He also is the brother of Simon Peter. Andrew is the patron saint of both Scotland and Russia, as well as Greece.
Popularity of the name
This name is in the lists of TOP names for baby boys in USA, UK, Ireland, Canada and other countries.
Name number – 2
Colors- Orange, Peach, Salmon, Gold, Green, Grey, Brown, White
Gems – 

Gold,

  

Moonstone,

 

Emerald

Flowers – 

White jasmine, White lilac,

 

Mimosa,

 

Pansy

Favorable day- Wednesday, Friday
Nameday- Andrew's Nameday is celebrated on November 30th
Variations of the name
Adem, Aindrea, Aindreas, Andie, Andonia, Andor, Andresj, Andrewes, Andrews, Andrey, Andrzej,Andrian, Andriel, Andries, Andrij, Andrei, Andrija, Andrius, Andro, Andros, Andru, Andruw, Andy, Antero, Andrik, Andric, Andrick, Andryk, Andryck, Andryc, Andre, Andrae, Andras, Andreas, Andrej, Andres, Andreus, Andrey, Andris, Aundray
Personality traits
Physical, passionate, romantic; A born traveller. Curious personality who  likes to meet new people; A good diplomat and visionnaire. Ambitious, independent, sometimes stubborn. Loves  to fight. A natural authority, a born leader, but very gentle and kind. Hardworking, has a good taste and  most probably artistic character.
Famous bearers of the name 
Saint Andrew the Apostle
Andrew I-III, Kings of Hungary
A. Jackson, 7th U.S. president
A.Johnson, 17th U.S. president
A. Lloyd Webber, English composer
A. Scott Zimmern, American celebrity chef and TV personality
A.Russell Garfield, American-British actor
A. Lincoln (born Andrew James Clutterbuck), English actor
A.Newell Wyeth, American painter
A. "Andy" Warhol, American pop artist
Andrew on You Tube
https://youtu.be/73DUzyMy71I