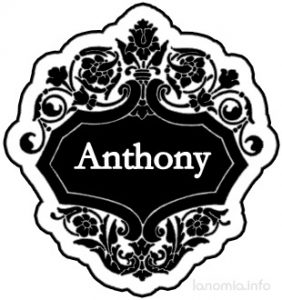 Gender of the name Anthony is a  Boy
The origin of the name – Name Anthony originates from Latin and Greek languages.
The meaning of the name- Anthonys' name is translated from Latin as "The one from an old family". Anthony's name in Greek is understood as "Praiseworthy, full of joy".
Popularity of the name
This name is currently  in the list of TOP 20 most popular names of USA.
Name number- 7
Colors- 

Violet, 

Purple,

 Green,

 

Turqoise,

 

Brown,

 Grey

Gems- 

Amethyst,

 

Alexandrite,

 

Emerald

Flowers- 

Lavender

, 

Rose- scented geranium

Favorable days – Wednesday, Friday
Nameday- Anthony's Nameday is celebrated on January 17th.
Variations of the name
Antal, Anthone, Anthoney, Antanas, Anntoin, Antin, Anton, Antone, Antonello, Antoney, Antoni, Antonije, Antonin, Antonino, Antonio, Antonius, Antons, Antony, Antun, Anthany, Antione, Antoine, Antjuan, Antuan,  Antuanas, Antwain, Antuwaine, Antwan, Antwaun, Antwohn, Antwoin, Antwoine, Antwon, Antwone
Personality traits
Original , unconventional and  not easily influenced. Physical, passionate and  romantic.  Dynamic leading a  busy life-style. A freedom lover. Has a good taste and refined habits.   Self- sufficient, hardworking and successful.
Anthony on You Tube
Famous bearers of this name are
Roman warrior Marcus Antonius
English actor Anthony Hopkins,
American actors- A. Quinn and Antonio Banderas
Chef/author- A. Bourdain;
Former British prime minister- Tony Blair
Skateboarder – Tony Hawk.
A. Eden, British Prime Minister
A. Kiedis- Lead singer of band Red Hot Chili Peppers
Tony (Anthony) Shalhoub, Actor
Mark Anthony, singer
A.Padilla- American internet personality, part of the YouTube comedy duo Smosh
A. Quintal (@lohanthony)- American internet personality
A. Perkins-Actor the original Norman Bates