Name Layla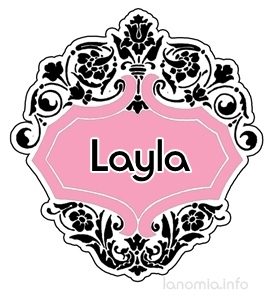 Gender of the name Layla is a  Girl   
The origin of the name  Layla is Arabic.
The meaning of the name–  Layla's name is translated as " dark beauty, A beauty of the night or Born at night".
Whos is Layla's Patron Saint?
Her Patron Saint is St. Lelia
Memorial day of St. Lelia is on August 11th.
Name number –6
Colors – 

Royal blue,

 

Indigo, 

White,

 

Red, 

Pink

Gems – 

Pearl,

 

Sapphire

, 

Coral, Carnelian, Jasper, Red agate

Flowers – 

Rose,

 

Honeysuckle

Favorable day – Tuesday, Friday
Nameday- Layla's Nameday is celebrated on March 13th and on August 11th. 
Variations of the name
Laila, Leila, Leilani,  Leyla, Laeal, Laliah, Lailie, Laily, Laylah, Laili, Laylie, Layli, Lailaa, Leela, Leela, Leilah, Lela, Lelia,  Lelah, Lelia, Loelia
Personality traits 
Strong and energetic. A pioneer and a risk taker. Loves freedom and fights for it. Loves privacy and secrets. Has a good intuition. Leads a dynamic and busy lifestyle, travels much. Talks much, may have artistic taste.Bold and courageous. Maybe stubborn and keep a list. Loves to spend, easily excited.
More about Layla from other authors
Layla means "night" in Arabic. This was the name of the object of romantic poems written by the 7th-century poet known as Qays. The story of Qays and Layla became a popular romance in medieval Arabia and Persia. The name became used in the English-speaking world after the 1970 release of the song 'Layla' by Derek and the Dominos, the title of which was inspired by the medieval story.
Source:–  Behind the Name