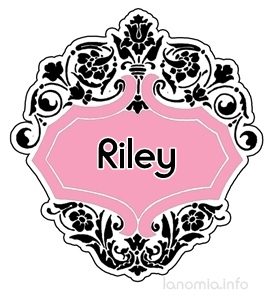 Gender  of the name Riley is a Girl,

Boy

The name Riley can be also used  for both genders.
The origin of this  name  is Gaelic.
The meaning of the name– Riley's name is understood as " The one who is courageous, or the one from the rye".
History of the name – Riley's name is considered to be the transferred use of the surname derived from the Old English elements ryge (rye) and lēah (wood, clearing, meadow). The name was indicativion of one who used to live near a rye field.' It is considered, that Riley's name derives from the Scottish surname Reilly.
Who is Riley's Patron Saint?
Her/His  Patron Saint is St. Rutilus of Syrmium. His Memorial day is on February 23rd.
Name number- 6
Colors –

 Royal blue,

 

Indigo

, 

White,

 

Yellow,

 

Pink, 

 

Light purple

Gems – 

Pearl,

 

Sapphire, 

Yellow topaz

,

Yellow Sapphire

Flowers – 

Rose, 

Honeysuckle

Favorable day – Thursday
Nameday-  Riley's Nameday is celebrated on February 23rd and April 21st. 
Nicknames – Riggs, Riggly, Rye, Riles, Riley-Roo
Variations of the name
Reilley, Reilly, Rilee, Rileigh, Ryley, Rylee, Ryleigh, Rylie, Rilie, Rili, Reiligh, Rilea, Rylea, Ryson, Rysen, Ryesen, Ryelana, Reilly, Rilee, Rylee, Ryleigh, Rylie
Personality traits
Hardworking, loyal, dependable and duty- bound. Having a good taste , creative and artistic. Good communicator, loves freedom and changes. Needs a lot of privacy, loves to contemplate, not easily influenced. Charming and lucky. Needs a lot of sleep.
Famous people and celebrities with this name
R. King (B.B. King), American musician
R. P. Bechtel, American businessman
R. A. Bender, American businessman and politician
R. Breckenridge, American musician
R. Chamberlin, American silent film actor
R. Martin, American author
R. Smith, American actor
R. Swanson, American football player
R. Odoms, American football player
R. Matheson, American football player
R. Edward Donoho, son of actress Holly Marie Combs
R. Arp, Professional CS:GO player
Riley's name in the media
"The Life of Riley", – popular 1940's radio series
Riley Stavros – a character from the TV show Degrassi: The Next Generation
Riley Freeman – animated character from the TV show: The Boondocks
Riley Biers- Twilight's Eclipse by Stephanie Meyer, Newborn Vampire
Riley Poole- National Treasure 1 and 2
Riley Matthews- Main  title character of the TV show Girl Meets World