Name- Mila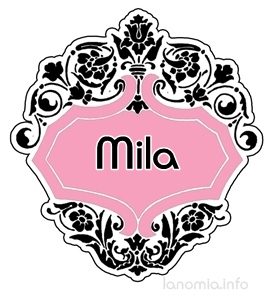 Gender of the name– This name is y given to a girl.
The origin of the name Mila– it is a slavic name. This name is popular in  Serbia, Croatia, Bulgaria, Macedonia, Russia, Lithuania, Latvia, Estonia, Finland, Czech, Poland, Ukraine
The meaning of the name – This name originates from slavic root  Mil, (Мил) meaning "gracious", "beautiful, pleasant to eye" or "dear". This name may also be a short form of slavic names  Milena and Miloslava or Miroslava. Mila is also the first root  of the Spanish word milagro- which means miracle.
Name number-

8

Colors- 

Capricorn

Lucky colors for her are – 

Rose

,

pink

,

 red

Gems – 

Diamond

,

rose quartz

, 

coral, red agate, carnelian, sange moose

Flowers – 

Hollycok for ambition

,

camellia for excellence and mastery

Favorable day – 

Tuesday, Friday

Nameday of Mila is celebrated on  May19
Nicknames – Mimi, Millie, Milu, Milė
Variations of the name
Milah, Milla, Milena, Liudmila, Lydmila, Ludmila, Camila, Milada, Meila, Mella, Мила, Miła, Miluša
Personality of Mila
Mila is a fiery person. She is determined to achieve her goals and usually gets everything done. She is professional in everything she does and her friens love her authority. A great problem solver, industrious and hardworking. She is a great planner and a business type person. Her goals are mastery, building, expansion and perfection. Her life is not easy, but her shining personality  attracts luck, money and admiration.
Celebrities and famous people with this name
Mila Kunis – American actress
Mila Jovovich – Russian supermodel and actress residing in USA.